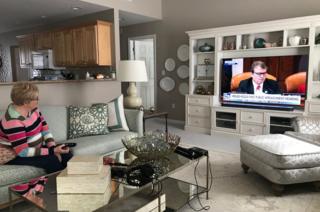 The television cameras were rolling on the impeachment hearings for the first time this week. It was a big event in Washington but what about in the Trump heartlands?
Many people in the western part of Pennsylvania, a battleground state in the 2020 campaign, were deeply suspicious of the Democratic lawmakers during the first public hearings in the impeachment effort that may remove the US president from office.
These Pennsylvanians strongly defended the president, and their views of Trump and Washington could once again determine the outcome of the election.
Lynn Gramling, a businesswoman, watched the hearing in her living room on Wednesday. When Adam Schiff, the Democratic chairman of the House intelligence committee, spoke, she made a face. "Shifty Schiff", she said, using…
Please follow and like us:
Watching impeachment hearing in Trump country