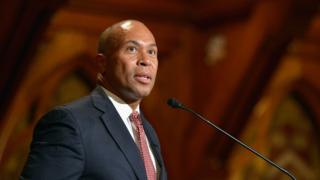 Deval Patrick has become the latest US Democrat to join the crowded race for the 2020 presidential election.
The two-time former governor of Massachusetts announced his candidacy on Thursday.
He joins 17 other Democrats still in the race, including former Vice President Joe Biden and Senators Elizabeth Warren and Bernie Sanders.
His run starts just three months before the first votes are cast in the Iowa caucuses and New Hampshire primary.
Mr Patrick launched his campaign in an online video, saying the election was about more than President Donald Trump: "This time is about more than removing an unpopular and divisive leader – as important as that is – but about delivering instead for you."
Serving from 2007-2015, Mr Patrick, 63, made…
Please follow and like us:
US election 2020: Deval Patrick announces presidential bid