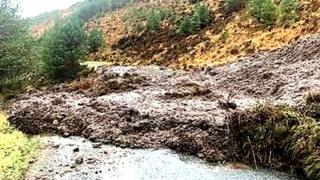 A controlled route has been opened up to a village cut off by a landslip in Tuesday's storm.
Kylerhea, on Skye, was left isolated after mud covered more than 100m (328ft) of road.
Engineers managed to clear a route to allow residents through but said access would be limited to three hours on Tuesday and from 07:00 on Wednesday.
It followed widespread disruption across the country, brought on by heavy rain and high winds on Tuesday.
Firefighters rescued a baby, its mother and a pensioner from cars stranded in floodwater in Dumfries and Galloway.
The West Highland Free Press reported that a second island road on Raasay, the "bottom" road near the Raasay Outdoor Centre, was also closed after 30m (98ft) of parapet wall collapsed.
An alternative…
Please follow and like us:
Route cleared to Skye village cut off by landslip