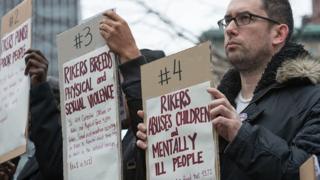 Vidal Guzman was 16 years old when he entered Rikers Island jail for the first time. As he crossed the bridge over to the island, a prison guard told him to "get ready for Gladiator School".
In Vidal's first week, he says, he saw two teenagers hang themselves.
"That shaped my mind," he says. "They say that Rikers is everywhere in some shape or form. Rikers doesn't leave you."
---
This week New York City Council voted to close Rikers Island jail, which has housed famous inmates including Tupac Shakur, Sid Vicious, and Mark David Chapman – the man who killed John Lennon.
Council speaker Corey Johnson described the jail as "a symbol of brutality and inhumanity".
"As a city, we must do everything we can to move away from…
Please follow and like us:
Rikers Island: Tales from inside New York's notorious jail