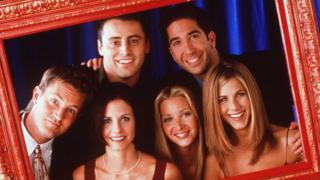 All six Friends actors are in talks for a one-off unscripted reunion show, according to reports in the US.
The Hollywood Reporter and Variety claim the special programme would be shown on new streaming site HBO Max.
However it would apparently not involve fully reviving the hit sitcom, which ran from 1994-2004.
HBO Max secured the US rights to all 10 seasons of Friends for $425m (£340m) for its service, which is due to launch in April 2020.
Is the time finally right for a Friends reboot?
Born after Friends began – and now big fans
The show will move from Netflix, where it has found a new lease of life with younger audiences, being the second most-watched show in 2018 – according to Nielsen data.
Jennifer Anniston, who played Rachel on the show, recently joined Instagram and attracted almost five million followers in 12 hours after posting a selfie alongside co-stars Courteney Cox, Lisa…
Please follow and like us:
One-off Friends TV reunion on the cards – but it won't be a reboot