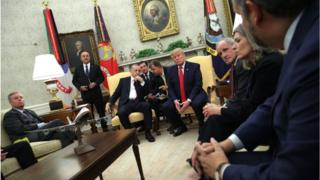 Turkish President Recep Tayyip Erdogan sparked tensions during his US visit when he showed Republican senators an anti-Kurdish video, US media say.
On Wednesday Mr Erdogan played the video on an iPad during a White House meeting with President Trump and the lawmakers who vocally back the Kurds.
President Donald Trump mostly observed the interaction, sources told US media.
Mr Trump has been widely criticised in the US for his decision to withdraw troops from Syria's border region.
The Kurdish-led Syrian Democratic Forces (SDF) – which are supported by the US – played a leading role in the fight against Islamic State (IS) militants.
The senators involved in Wednesday's meeting…
Please follow and like us:
Erdogan shows anti-Kurdish video to senators at White House