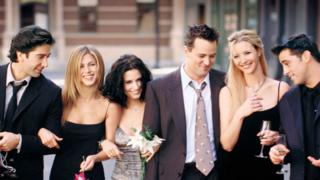 Actress Courteney Cox has found her own way to get through self-isolation during the coronavirus pandemic – binge-watching Friends.
Cox told TV host Jimmy Kimmel she remembered very little about the hit sitcom in which she played Monica for a decade.
"People love the show so much, I decided to binge watch Friends… it's really good!" she said via video link.
"I don't remember even being on the show, I have such a bad memory."
She added: "I remember obviously loving everybody there and having fun and I remember certain times of my life I was there, but I don't remember episodes."
Friends to reunite for one-off special
Born after Friends began – and now big fans
The hugely successful show notched up 236 instalments and has enjoyed a recent…
Please follow and like us:
Courteney Cox's Friends are there for her in coronavirus isolation