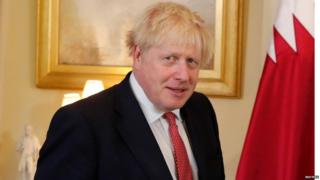 Climate change, instability in the Middle East and Brexit will be on the agenda when Boris Johnson meets other world leaders in New York next week.
The prime minister will hold talks with Donald Trump, Emmanuel Macron and Angela Merkel among others at the UN's annual General Assembly.
He will also meet India's Narendra Modi and Irish Prime Minister Leo Varadkar.
The Irish government has said "quite a wide gap" remains between it and the UK over a mutually acceptable Brexit deal.
Speaking on Friday, its foreign minister Simon Coveney said the "mood music" had improved but claims the two sides were inching towards an agreement were "spin".
The UK is due to leave the EU on 31 October unless the bloc agrees to further extend the process. Mr…
Please follow and like us:
Boris Johnson to discuss climate and Brexit at UN gathering